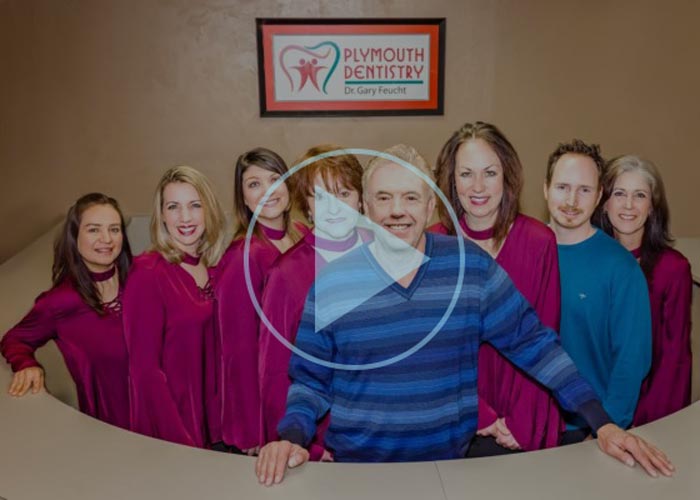 Plymouth Dentistry has been serving our hometown for over 35 years. We know that choosing the right dentist in for yourself and your family is an important decision that can affect not only your dental health but your overall health and self-esteem.
Here at Plymouth Dentistry, we have the experienced staff and technology you required to provide the care required for your dental issue! We're proud to offer both family and cosmetic dentistry to our patients.
It is always our goal to provide the best service possible for you as well as your entire family. If you have any questions or concerning regarding your care with our practice, please contact our conveniently located dental office today!
Your New Dental "Home"
Take a minute to call us for an appointment. From the moment you step into our office, we will do our best to help make Plymouth Dentistry your new dental "home." Dr. Gary Feucht DDS and his team offer patients a superior level of treatment and customer service by combining modern techniques and state-of-the-art dental technology with traditional treatment methods.
Our Mission
Right from the start, it has been the mission of Plymouth Dentistry to create what we like to think of as a dental "home" for our patients. It's that sense of family that comes from creating a trusting relationship between our staff and the people who entrust their dental care to our practice.
Our Plymouth Dentist Has Been Trusted for Over 35 Years
For over 35 years, we have been providing high-quality dental care and services to families all across the Plymouth, Westland, and Canton communities. With our many years of experience and expertise, Dr. Feucht DDS and our highly accredited and certified staff are well-equipped to give you the very best dental care possible.
Dr. Feucht DDS is a trusted dentist in Plymouth MI. To schedule your next appointment with Plymouth Dentistry, call (734) 459-7110.