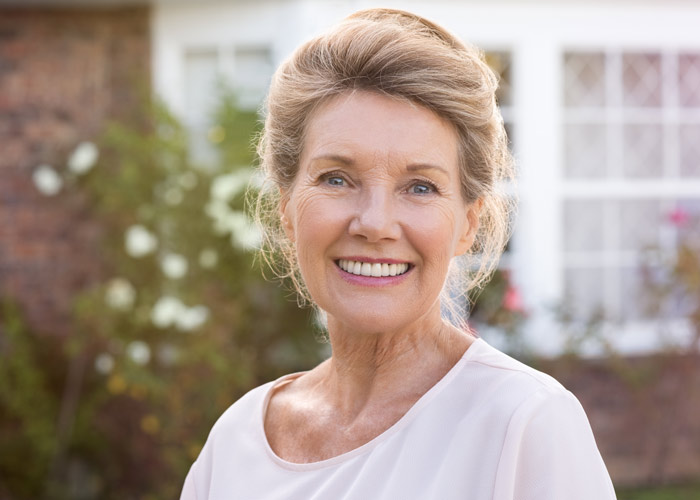 Missing teeth can make it difficult to eat, smile, and talk. Fortunately, our implant dentist can help you explore your tooth replacement options, including implant supported dentures.
Implant supported dentures are held in place by titanium rods fused to your jawbone. Continue reading to learn if implant supported dentures are for you.
Strength
Implant supported dentures function much like natural teeth, which means they'll be able to withstand pressure exerted from chewing. Steak? Corn on the cob? No problem. By choosing implant supported dentures, you'll be able to continue eating your favorite foods.
As long as you take care of your teeth, there's no reason why your permanent dentures can't last for decades. Be sure to see your dentist every 6 months for a teeth cleaning and oral examination. During your appointment, our dental implant dentist will be able to monitor your oral health and make sure your implants last for years to come.
Improved Chewing
Many of our patients appreciate that they're able to continue eating their favorite foods with implant supported dentures. Unlike dentures that slip, implant supported dentures are anchored to your jawbone. While you can easily correct slipping dentures by biting down gently and swallowing, many of our patients would prefer to avoid this hassle altogether. allow you to eat with confidence.
Improved Speech
It takes time to learn how to speak around dentures without lisping. Fortunately, implant supported dentures function like natural teeth so you won't have to relearn how to speak. These permanent dentures are anchored to your jawbone so you can talk to friends, family, and co-workers with confidence.
Better Appearance
Dentures can look fake if they're made of inexpensive materials. In comparison, implant supported dentures look and feel like natural teeth. You'll be able to appreciate your beautiful healthy smile the next time you brush your teeth or take your next selfie. Make sure you maintain a healthy oral hygiene routine and continue seeing your dentist every 6 months for preventive care.
Better Oral Health
Once your body senses you've lost a tooth, it'll begin to absorb the minerals in your jawbone to use elsewhere. Over time, jawbone deterioration can lead to facial collapse. Not only does facial collapse make you look older than your chronological age, but it can make it harder for your dentures to rest comfortably on your gums. Dental implants can prevent further bone loss from happening.
If you've recently lost a tooth, your first call should be to our dental implant dentist. We can help you determine whether are right for you. To be a candidate for dental implant surgery, you must have sufficient bone density in your jaw to support the implants. You must also have a healthy immune system to undergo surgery.
Dr. Gary Feucht is a dental implant dentist in Plymouth, MI. To request an appointment to explore your tooth replacement options, call Plymouth Dentistry at (734) 459-7110.