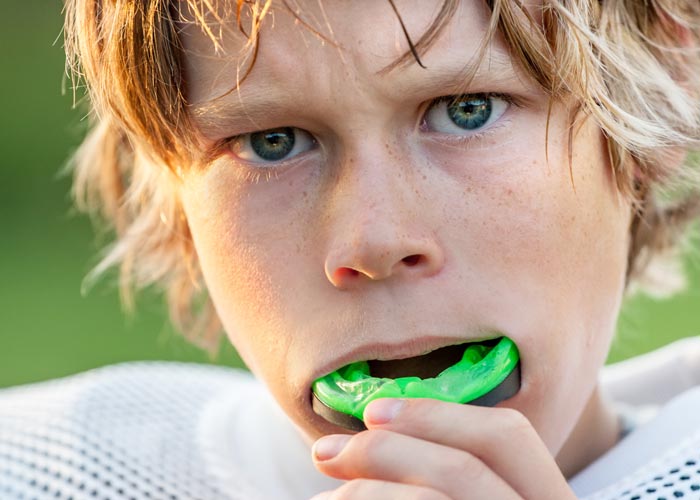 Do you play a contact sport like football or hockey? If so, wearing a sports mouth guard will help prevent injury in the long run.
It only takes a second for someone to hit you in the mouth by accident, knocking out a tooth.
The good news is that a mouth guard helps cushion your teeth against this type of impact. But it's important that you wear a custom mouth guard and replace it as soon as you notice wear and tear.
Here's what you need to know about your sports mouth guard and how to maintain a healthy smile.
1. Sports mouth guards protect your teeth.
Playing contact sports increases your risk of dental injury. That's why we recommend you always
when you play.
Mouth guards form a protective layer over your teeth while playing contact sports. That way, your teeth will still be intact if you receive a blow to the face.
Don't let your game time get cut short by an emergency trip to the dentist. Invest in a well-fitting sports mouth guard.
2. You only need a mouth guard for the top teeth.
You only need a mouth guard for the top teeth. An exception to this rule is if you wear braces or another fixed dental appliance on your lower teeth. Under these circumstances, we would create a special mouth guard to accommodate your smile.
3. You need to replace mouth guards every six months.
Your mouth guard will show signs of wear and tear over time until the material is too thin to protect your teeth. If your mouth guard has damage, please don't hesitate to call our office for a replacement.
4. You need to wash your mouth guard after every use.
Bacteria love to live in the dark nooks and crannies of your mouth guard. This is why you'll need to clean it out after every use.
Gently scrub the mouth guard with a toothbrush and rinse under cold water. You'll need to then store your mouth guard in a dry ventilated container.
Clean your mouth guard after every use to remove harmful bacteria.
5. You can still wear a mouth guard with braces.
If you have braces, you'll need a braces mouth guard that fits properly. A mouth guard that is too tight will stop your braces from moving your teeth. A loose mouth guard can snag on your braces during impact to cause tooth and orthodontic damage.
For the best fit, ask our dentists to make you a custom sports mouth guard.
6. Stock mouth guards aren't good for long-time use.
Do you plan on playing a contact sport for an entire season? If so, it's well worth the investment to get a custom mouth guard.
There are plenty of opportunities for
and practices. But keep in mind that a stock mouth guard may not give you the level of protection you need.
With wearing a stock mouth guard, you run the risk of it fitting too tight or loose. Not only is this uncomfortable, but it also doesn't cushion your teeth as a custom mouth guard would.
Even the boil-and-bite mouth guards don't offer as much protection. A DIY mouth guard will never match the quality produced by a professional dental lab.
In comparison, we take dental impressions to create your custom mouth guard. One of our dentists will also ensure that your mouth guard has the proper fit.
7. Sports mouth guards save you money.
The cost of a sports mouth guard pales in comparison to what it would cost to repair a damaged or missing tooth. Not to mention, sometimes it's not always possible to re-implant a tooth after it's been knocked out.
If you play contact sports on a regular basis, it's worth the money to get a custom mouth guard. Vacuum-formed mouth guards or pressure laminated mouth guards offer the best dental protection.
Request an Appointment With Us
Are you interested in getting a custom sports mouth guard? Good news! Our dentists in Plymouth, MI, are accepting new patients.
To request an appointment, call Plymouth Dentistry at (734) 459-7110. You may also fill out our online contact form.
This blog post has been updated.