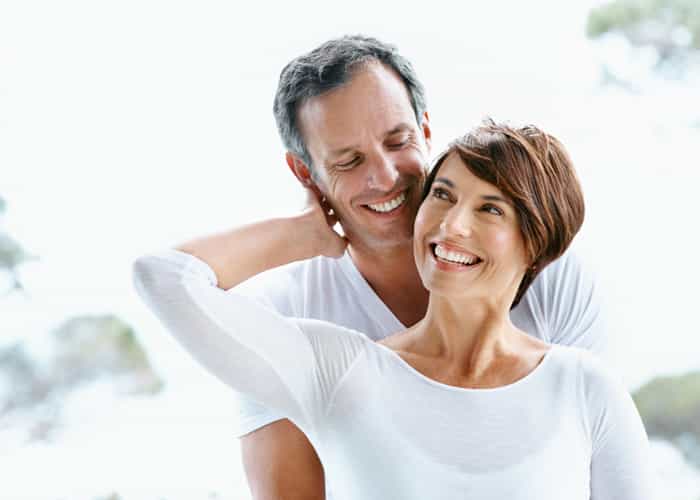 If you've ever felt self-conscious about your smile, you owe it to yourself to ask our dentist about a smile makeover. As the name suggests, a smile makeover focuses on fixing your entire smile, not just one or two teeth. Our Plymouth, MI dentist will be able to determine what type of tooth restoration is right for your smile.
Continue reading to learn if you're a candidate for restorative dentistry.
Benefits of Smile Makeovers
There are many reasons why someone might opt for one of our smile makeover treatments. Here are just a few: 
Achieve a beautiful healthy smile

Smile with confidence

Correct multiple issues in a short period of time

Improve oral health
If you're interested in any of the above oral health goals, here are the procedures our office provides to help get you there. 
Veneers
A veneer is a wafer-thin porcelain shell bonded to the front of a tooth to repair chips or cracks. Porcelain veneers can also be used to correct uneven teeth, tooth discoloration, or close small gaps between teeth. When applied to an entire row of teeth, the finished result is a perfectly straight, white smile. 
Veneers require three trips to a cosmetic dentist, which include an initial consultation with your dentist, tooth preparation, and bonding the dental veneers to your teeth. Our dentist will let you know if porcelain veneers are the right treatment for you. 
Dental Bridges
As the name suggests, a dental bridge is used to "bridge" the gap left by a missing tooth. A dental bridge is a false tooth anchored in place by dental bridge gives you the appearance and function of a natural tooth so you can smile with confidence.
covering adjacent teeth. A
Dental Crowns
Dental crowns repair broken or decayed teeth by covering the entire tooth visible from the gum line. Not only are dental crowns durable, but they also look and function like real teeth. For significant tooth damage, your dentist may recommend a dental crown procedure.
READ MORE: How Are Dental Crowns and Fillings Different? >>
Teeth Whitening
Not getting the white teeth you've always wanted with over-the-counter whitening toothpastes and strips? For professional teeth whitening results, you'll want to schedule an appointment at a dentist's office. 
A dentist will be able to create a whitening tray you can use at home that's customized to your smile. Many of our patients appreciate the convenience of being able to whiten their teeth at home.
Dental Implants
Dental implants are perfect for patients only missing one or two teeth. To be a candidate for dental implant surgery, you'll need healthy gums and jaw bone tissue. This is because the dentist will need to insert a titanium rod into your jaw tissue, which will function much like a natural tooth root. 
After the implant has fused to your jaw bone (a process called osseointegration) the dentist will place an abutment and crown over top for a tooth that looks and feels natural.
Full or Partial Dentures
If you are missing several teeth in a row, you'll want to ask your dentist about getting full or
. While living with dentures takes some getting used to, our patients notice being able to eat and speak normally after a few days.
While dentures are essentially removable teeth, they are designed to help you achieve a better quality of life than you would have had with missing teeth.
Call Our Office Today! 
Our dentist at Plymouth Dentistry can offer restorative and cosmetic dentistry services so you can achieve your best smile. To schedule your appointment with one of our Plymouth dentists, call Plymouth Dentistry at (734) 459-7110.
Related Blog Posts
What's the Best Way to Whiten Teeth?
Dental Implant Procedure and Benefits
How Dental Crowns and Fillings are Different
Are Porcelain Veneers Worth It?
Your First 30 Days Wearing Dentures
This blog post has been updated.