Regain Confidence with Cosmetic Dentistry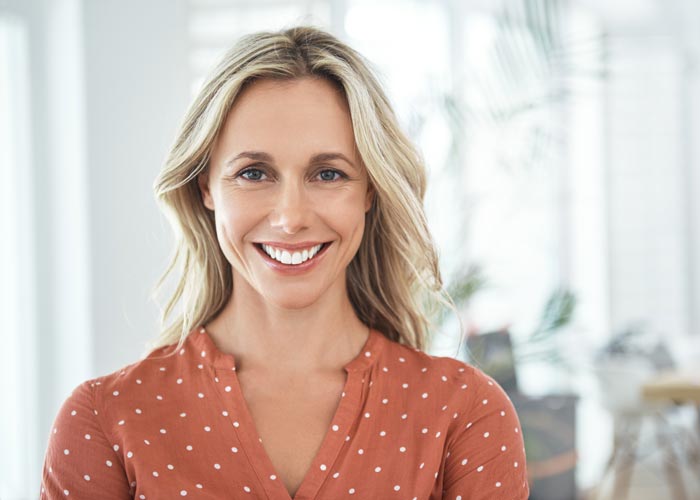 Do you ever cover your mouth when you laugh or smile with your lips closed? If so, it's time to schedule a consultation with one of our cosmetic dentists in Plymouth, MI. From there, they'll be able to help you explore your treatment options so you can start smiling with confidence again. Cosmetic dentistry has great potential to not only enhance the appearance of your teeth, but improve your health and overall quality of life.
In the meantime, here are some of the top reasons people seek cosmetic dental care and what procedures we may recommend.
What is Cosmetic Dentistry?
Ever wonder what it's like to be the person with the biggest smile in a group photo? The goal of our cosmetic dental services is to improve the appearance and overall health of your smile so that you can feel confident.
Cosmetic dentistry can repair the following:
Discolored and Stained Teeth
Cavities
Chipped Teeth
Crooked and Gapped Teeth
Decaying and Missing Teeth
If you recognize the above characteristics in your own smile, please don't hesitate to schedule an appointment with our office. We'd love to help you take the next steps on your smile journey.
Discolored and Stained Teeth
Tired of looking at stained teeth in the mirror? Certain foods and beverages, such as coffee, can make our smiles less than pearly white. While it can be hard to kick the caffeine addiction, you should know that these types of beverages create tooth enamel stains. Other habits, such as smoking, can discolor natural tooth enameland damage gums.
If you haven't achieved the teeth whitening results you want with over-the-counter toothpaste and gels, you may want to consult with an experienced Plymouth cosmetic dentist. A professional teeth whitening treatment can help you see an immediate improvement in the whiteness of your teeth.
Learn More: What Happens During Zoom Whitening? →
For deep stains that go beyond the surface of your teeth, you may want to consider getting porcelain veneers or crowns. In addition to correcting a variety of dental conditions, these restorations can also be matched to the color of your surrounding teeth for a whiter smile.
Cavities
Metal fillings can make you feel self-conscious about your smile. Fortunately, composite resin fillings can mimic the natural color of your teeth so no one has to know you even had cavities in the first place. Many of our patients appreciate having the option of white fillings for permanent adult teeth.
Metal fillings are less than discreet, especially when you have multiple cavities filled at once. To avoid having a mouth full of metal, you may want to choose tooth-colored fillings.
Chipped, Crooked, or Gapped Teeth
Contrary to popular belief, orthodontic treatment isn't the only way to achieve a straighter smile. If your teeth are chipped, crooked, or gapped, dental bonding and porcelain veneers can help! Veneers and resin can both be used to cover problem teeth, redefining their shape and filling in slight gaps.
The veneers process involves color matching the porcelain to your teeth. One of our dentists will then file down the enamel of your tooth so that the temporary veneers sit flush against the rest of your teeth. When you return for your second appointment, we'll replace your temporary veneers for the permanent ones.
Dental bonding is similar, except that no enamel has to be removed for the procedure. One of our dentists will rough up the surface of your tooth before applying a dental putty that matches the exact shade of your enamel. Dental bonding tends to be less durable than porcelain veneers. However, it's also more affordable and only takes one visit to our office.
Missing Teeth
If you are missing teeth, you may benefit from a dental bridge or dental implant procedure. Dental bridges allow you to anchor a prosthetic tooth between two healthy strong teeth. A dental implant screws into your jaw and is capped with a dental crown for the appearance and function of a natural tooth.
It's not uncommon for patients to have missing teeth due to significant injury or decay. If you would like to pursue dental treatment for missing teeth, we recommend you speak with one of our dentists to go over your options.
Book a Consultation with a Cosmetic Dentist
Ready to take the next step? Our cosmetic dentists in Plymouth, MI, are accepting new patients and would be more than happy to help you achieve your dream smile. To schedule an appointment, please call Plymouth Dentistry at (734) 459-7110. You may also fill out our online contact form and someone from our team will reach out to you soon.
This blog post has been updated.